Harare based rapper T1 Wema1 recently launched his 2nd studio album "Rugare". The album, which features a combination of Hip Hop, RnB and Dancehall sounds, sees T1 Wema1 touch on several aspects of the human experience through rap. T1 explores a variety of emotions from frustration to happiness while highlighting his quest for "Rugare" which translates to peace. T1 starts off by confronting internal and external forces that impede his progress. He does so by placing emphasis on how hard he works to avert being relegated to his poverty stricken past and delves into the physical and psychological toll this takes on him. T1 also laments the equal absence of opportunities and unity in today's society which in turn jeopardizes our socioeconomic freedom and peaceful co-existence. Despite T1's informed perspective on life, he's not exempt from turning to alcoholism and hallucinogens in a bid to escape from his problems. The rapper proceeds to narrate how he and his friends – under the guise of celebrating – eat, smoke and drink the night away with female company. However, amidst all the extravagance, T1 is still aware of his need for "Rugare" (peace) and so he denies freeloaders and undesirable characters the opportunity to kill his vibe. Finally it dawns on T1 that he should pay more attention to his family and his self-development by allowing God to guide his life in order for him to truly achieve "Rugare" (peace). He takes some time to appreciate what he has and recalls all the times he neglected his family while promising to do better in the future.
The production of the album was led by rising music producer Vic Enlisted who produced the majority of the tracks and was also responsible for the recording, mixing and mastering. T1 Wema1 assumed the role of Executive Producer while engaging talented Hip Hop producers Fun F, Rayo Beats, Mclyne Beats and StillGift for their respective contributions to this beautiful Pan-African music project. The Rugare album features guest appearances by Emilia Patrick, Ishy X, GZE, Mile, Galis Kush, Phante and Jeysz.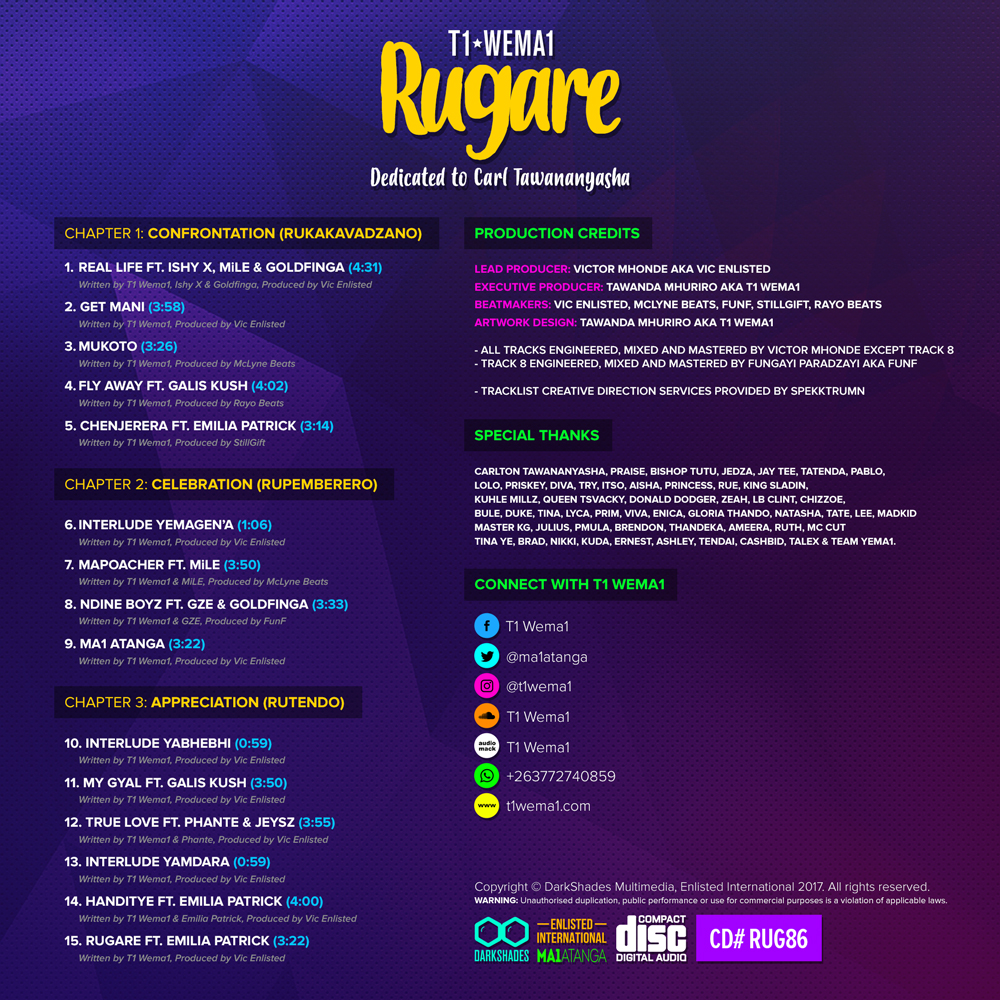 The Rugare album is available on all digital music stores.
T1 Wema1 (real name: Tawanda Mhuriro) is a Harare based Hip Hop artist who began his rap career in 2014 with a couple of radio friendly singles that culminated in an album titled Inzwa. The album earned him Best Newcomer and Best Album nominations at the 2015 edition of the Zim Hip Hop Awards. The 12 track Inzwa album got fairly good reception from the urban radio stations, online media and the streets alike. A music video for a song titled Mangwana off the same album graced the DSTV Zambezi Magic Zim Top 10 music chart for eight weeks and landed the number 1 spot for two weeks. Rapping predominantly in the Shona language using quirky lyrics laced with similes, metaphors and wordplay, T1 Wema1 aims to simultaneously educate and entertain through his raps.
WHO WE ARE!
Mixtape Africa is an arts & entertainment/media company dedicated to promoting new and exciting African music. We represent Africa's best rising talents and have partnered with global music media outlets and marketing agencies such as MUSIC UNITES AFRICA (a global MOVEMENT of 21st Century Urban Pan-African Youths with a unique vision to Unite Africa via Music), BIG BAMMY'S BROADCAST and the NEO-AFRIKAN VOICES to ensure our artists get global recognition, professional music marketing, music seminars on music publishing/licensing and a host of social media trainings on how to engage and grow a fan base. Join us as we embark on this career transforming journey in connecting music lovers and concert goers with our awesomely rich and vast music library.
Mixtape Africa is the future of Pan-African music curation. We are experts at discovering new and exciting bright young talents and 'African-Inspired' music. We work hands-on with all our clients in order to give maximum exposure to their music brands strategically in thriving continental and international music markets. Our vision is to give fill exposure to the independent Pan-African music artist while building a vast music cloud-library for the 21st century Pan-African music lover.
We are Africa's #1 source for African Mixtapes. We're dedicated to promoting and encouraging young African artists to be creatively productive with their music. We offer All African artists and labels the perfect platform to showcase their musical talents to the world. Our goal is to set a standard for African music where artists are bold to express their emotions and feelings through music to our already established global music fan-base.